Image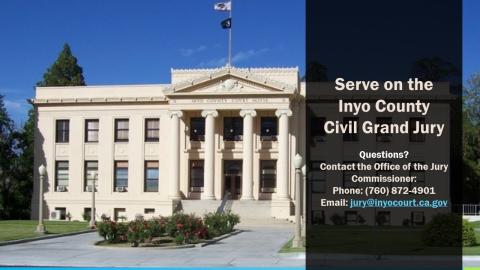 The Grand Jury is part of the judicial branch of government. Consisting of eleven citizens, it is an arm of the court, yet an entirely independent body. The presiding judge of the superior court, the district attorney, the county counsel, and the state attorney general act as its advisors.
Functions of the Grand Jury
What is a county grand jury and what does it do?
In California, the grand jury system consists of 58 separate grand juries—one in each county—that are convened on an annual (July – June) basis by the Superior Court to serve a "watchdog" function, investigating and reporting on the operations of local government.
With regard to its watchdog authority, the civil grand jury is well suited to the effective investigation of local governments because it is an independent body, operationally separate from the entities and officials it investigates. It conducts its investigations under the auspices of the Superior Court and has broad access to public officials, employees, records and information.
The grand jury's fact-finding efforts result in written reports which contain specific recommendations aimed at identifying problems and offering recommendations for improving government operations and enhancing responsiveness. In this way, the grand jury acts as a representative of county residents in promoting government accountability.
Volunteer to Serve As A Grand Juror
Service on the Civil Grand Jury is an excellent opportunity to learn about the inner workings of government, while providing a valuable service to the community. The 11 members of the Civil Grand Jury serve for one year (July – June) and are empowered to investigate the operations of county, city and district governments; provide civil oversight of local government departments and agencies; and respond to citizen complaints.
The Civil Grand Jury sets its own agenda and meeting schedule. Much of the work is performed in small committees allowing for considerable flexibility in the work schedule and meeting locations.
Grand Jurors are compensated $25 per full panel meeting and $10 per special or committee meeting; they are also compensated he standard IRS mileage rates.
To volunteer to serve as a Grand Juror please complete the Grand Jury Application.
You can return the completed application by email or mail to:
Office Of the Jury Commissioner
PO Box 1508
Bishop, CA 93515
To Contact The Civil Grand Jury
The Grand Jury receives letters of complaint from citizens alleging mistreatment by public officials, suspicions of misconduct, or governmental inefficiencies. Anyone may file a complaint and ask the Grand Jury to conduct an investigation. Such complaints are acknowledged and are kept confidential.
If the Grand Jury believes the situation warrants, the Grand Jury will investigate. The jury generally limits investigations to the operations of governmental agencies, charges of wrongdoing within public agencies, or the performance of unlawful acts by public officials. The Grand Jury cannot investigate disputes between private parties.
The mission of the Grand Jury is accomplished by assuring that all persons who communicate with the Grand Jury will be protected by strict rules of confidentiality. These rules extend to all participants, including witnesses, and all questions and responses. Further, complaint forms, minutes and records of Grand Jury meetings are protected by law and cannot be subpoenaed or inspected by anyone. Anyone who violates these rules of confidentiality is guilty of a misdemeanor.
Complaint Guidelines:
Receipt of all complaints will be acknowledged by mail. If a matter does not fall within the Civil Grand Jury's investigative authority, or the Jury determines not to investigate a complaint, no action will be taken and you will be notified via mail. The findings of any investigation conducted by the Civil Grand Jury can only be communicated in a formal final report published at the conclusion of the jury's term, June 30th.
The jurisdiction of the Civil Grand Jury includes the following:
Consideration of evidence of misconduct by public officials within Inyo County.
Inquiry into the condition and management of jails within Inyo County.
Investigation and reports on the operations, accounts and records of the officers, departments or functions of county and cities including special districts created by state law.
Some complaints are not suitable for jury action. For example, the Civil Grand Jury does not have jurisdiction over judicial performance, actions of the court or cases that are pending in the courts. Grievances of this nature must be resolved through the established judicial appeal system. The Civil Grand Jury has no jurisdiction or authority to investigate federal or state agencies. Only causes of action occurring within Inyo County are eligible for review.
Filing a Complaint or Request for Investigation:
Any private citizen, governmental employee or officer may ask the Civil Grand Jury to conduct an investigation. This complaint must be in writing and is treated by the jury as confidential. Any request for investigation must include detailed evidence supporting the complaint or request for investigation. If the Grand Jury believes that the evidence is valid and sufficient to support the complaint, a detailed investigation may be held. The written complaint should cover the following points:
Specifically, who or what agency the complaint is against
The nature of the complaint
The action that the complainant believes was improper or illegal
When and where did the incident(s) occur
The consequences of this action
Any action or remedies you are seeking
Attach relevant documents and correspondence with dates
Complaints may be submitted via:

Mail – PO Box 401, Independence, CA 93546
Hand-Delivery – Inyo Superior Court (please place in a sealed envelope marked confidential and addressed to Inyo County Grand Jury Attn: Jaime Cervenka)
Email – inyocountygrandjury@gmail.com
2023 County of Inyo Grand Jury Report
2023 County of Inyo Grand Jury Report
2022 County of Inyo Grand Jury Report
2022 County of Inyo Grand Jury Report
2022 County of Inyo Grand Jury Response - Big Pine Fire Dept.
2022 County of Inyo Grand Jury Response - So. Inyo Fire Dist.
2022 County of Inyo Grand Jury Response - Pioneer Home Health Care
2022 County of Inyo Grand Jury Response - No. Inyo Healthcare Dist.
2022 County of Inyo Grand Jury Response - Superintendent of Schools
2022 County of Inyo Grand Jury Response - Olancha/Cartago Community Services Dist.
2021 County of Inyo Grand Jury Report
Due to COVID-19, no Grand Jury was appointed for the 2020-2021 Reporting Year.
2020 County of Inyo Grand Jury Report
2020 County of Inyo Grand Jury Report
2020 County of Inyo Grand Jury Response - OVCC
2019 County of Inyo Grand Jury Report
2019 County of Inyo Grand Jury Report – Final
2019 County of Inyo Grand Jury Response – Sierra Conservation Center
2019 County of Inyo Grand Jury Report – First Interim
2019 County of Inyo Grand Jury First Interim Response – Board of Supervisors
2018 County of Inyo Grand Jury Report
2018 County of Inyo Grand Jury Report
2018 County of Inyo Grand Jury Response – Southern Inyo Fire Protection District
2018 County of Inyo Grand Jury Response – Big Pine Volunteer Fire District
2018 County of Inyo Grand Jury Response – Mt. Whitney Cemetery District
2018 County of Inyo Grand Jury Response – Auditor
2018 County of Inyo Grand Jury Response – Indian Creek Westridge Community Service District
2018 County of Inyo Grand Jury Response – Public Guardian
2018 County of Inyo Grand Jury Response – Board of Supervisors
2018 County of Inyo Grand Jury Response – Pioneer Cemetery District
2017 County of Inyo Grand Jury Report
2017 County of Inyo Grand Jury Report
2017 County of Inyo Grand Jury Response – Inyo County Clerk-Recorders Office
2017 County of Inyo Grand Jury Response – Inyo County Board of Supervisors
2017 County of Inyo Grand Jury Response – Inyo County Sheriff Department
2017 County of Inyo Grand Jury Response – City of Bishop Police Department
2016 County of Inyo Grand Jury Report
2016 County of Inyo Grand Jury Report
2016 County of Inyo Grand Jury Response – Northern Inyo Hospital
2016 County of Inyo Grand Jury Response – City of Bishop Police Department
2016 County of Inyo Grand Jury Response – Inyo County Sheriff's Department
2016 County of Inyo Grand Jury Response – School Districts
2016 County of Inyo Grand Jury Response – Inyo County Board of Supervisors
AGENTS of CHANGE - California Grand Jurors' Association